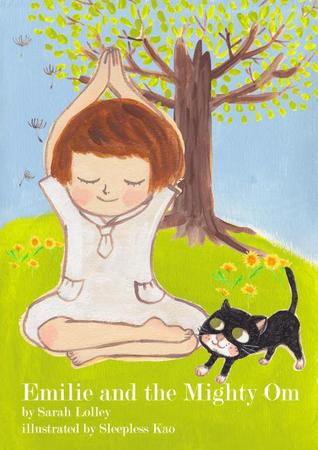 Emily and the Mighty Om by Sarah Lolley
Format: Book
Who's it for: Children
Poor Albert has gotten himself all twisted up like a pretzel!  While practicing yoga, he attempted an especially tricky asana and found that he couldn't untwist from it.  He thought it would be easy, but slowly found himself becoming more and more nervous until… his limbs just stayed stuck.  Laying there on the lawn, all twisted up from head to toe all he could manage to say was "O!… O!…OHH!"  It seemed as if Albert is trying to say something, something that might make his body become unstuck, but what could it be?  Some passerby's tried to guess what he's asking for, thinking it might help.
"A phone?" a lifeguard asks.
"A gnome?" a police officer tries.
"A poem?" a helpful librarian inquires.
Young Emily thinks she knows what Albert is trying to say.  Albert once described a magic word that everything on the planet understood- people, animals, trees… even the rocks.  Could the thing that will help him relax be as simple as the word "Om"?