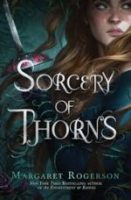 Sorcery of Thorns by Margaret Rogerson
Publication Date: June 4, 2019
Format: Book
Who it's for:  Teens, Adults
Elisabeth has grown up in one of the Great Libraries.  As a child she would play amongst the books and listen to them speak to her.  The Great Libraries are the home of many grimoires which are a sort of living book that will turn into monsters if they are provoked.  There is lots of magic in the Great Libraries and Elisabeth hopes to one day be a Warden, a protector of the libraries and magic contained within.
Elisabeth has been told that sorcery is evil and sorcerers are not to be trusted.  But, when she finally meets a sorcerer, Nathaniel Thorn, he doesn't seem so bad.  Shortly after the sorcerer visits, a grimoire monster is unleashed and Elisabeth is wrongfully blamed for the death and destruction it caused.  So, she turns to her enemy, the sorcerer, for help.
Libraries, magic, books that are almost living things, a strong heroine and a little romance.  What more could you ask for??!!